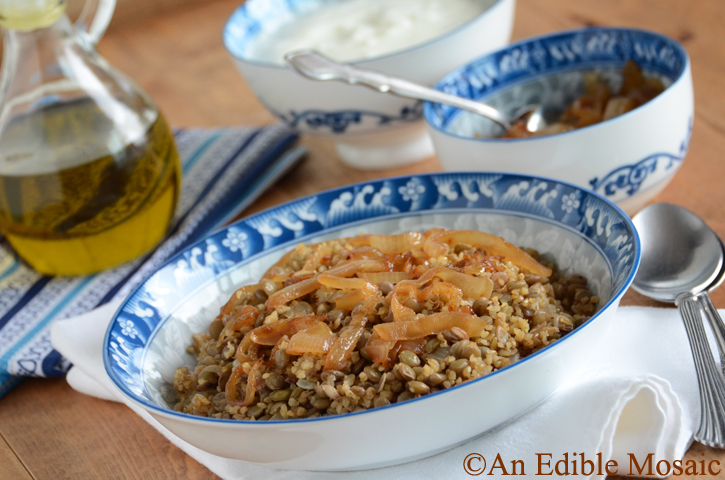 Join us for a special kind of Twitter party, celebrating An Edible Mosaic: Middle Eastern Fare with Extraordinary Flair. This wonderful cookbook by Faith Gorsky is a delicious introduction to Middle Eastern cooking, providing classic recipes along with personal stories of Faith's experience with this cuisine.
On Saturday, January 12, our team will be taking to the kitchen to prepare Lentil and Bulgur Pilaf with Caramelized Onions (also known as Mujaddara) and live-tweeting the whole process. We want you to cook along with us! Faith will be checking in to answer your questions about this dish, as well as Middle Eastern cooking in general.
Here's what you do:
First: assemble all the ingredients (see recipe below).
Next: join us on Saturday, January 12 at 4:00 PM ET using the hashtag #AnEdibleMosaic. (TweetChat is a great platform for participating in a Twitter party.)
Also: tweet pictures of your recipe as you go! We'll put together a photo timeline of all submissions for a follow-up post (giving you credit and links, of course!).
(To make sure that we have your pertinent information, register for the party
here
. That way, we can easily link out to you when we create our round-up post!)
Find the recipe below, then Cook, Tweet & Eat with us!
Lentil and Bulgur Pilaf with Caramelized Onion
MUJADDARA BURGHUL
Recipe courtesy of An Edible Mosaic: Middle Eastern Fare with Extraordinary Flair by Faith Gorsky
(Tuttle Publishing; Nov. 2012); reprinted with permission.
Serves 4 to 6
Preparation Time: 10 minutes
Cooking Time: 50 minutes, plus 10 minutes to let the bulgur sit after cooking
1 ¹/3 cups (275 g) dried brown lentils (or 2 cans brown lentils, rinsed and drained)
6 cups (1.5 liters) water
2 tablespoons olive oil
2 tablespoons butter
2 large onions, quartered and thinly sliced
1 bay leaf
2 pods cardamom, cracked open
2 cloves
2 teaspoons ground cumin
½ teaspoon ground cinnamon
1 ½ teaspoons salt
¼ teaspoon freshly ground black pepper
1 cup (185 g) coarse-ground bulgur wheat
1½ cups (300 ml) boiling water
Plain yogurt (optional, for serving)
1. Sort through the lentils to remove any small stones or pieces of dirt, and then rinse with cold water in a colander. Bring the rinsed lentils and the water to a boil in a lidded medium saucepan. Cover the saucepan, turn the heat down to a simmer, and cook until the lentils are tender but not mushy, about 20 to 30 minutes, stirring occasionally and adding more water as necessary so that they're always immersed; strain.
2. While the lentils cook, heat the oil and the butter in a large skillet over moderately-high heat; add the onion and sauté until completely softened but not yet browned,about 10 minutes, stirring occasionally. Transfer half the onion to a small bowl and set aside. Continue cooking the remaining onion until deep caramel in color, about 5 to 10 minutes, stirring occasionally and adding a splash of water as necessary if the onion starts to get too dark. Set aside.
3. Put half a kettle of water on to boil. Transfer the sautéed onion (not the caramelized onion) to a medium saucepan. Add the bay leaf, cardamom, clove, cumin, cinnamon,salt, and pepper and cook 1 minute. Add the bulgur and cook 1 minute more, stirring constantly. Add the boiling water, turn the heat up to high, and bring to a rolling boil.
4. Give the bulgur a stir, then cover the saucepan, turn the heat down to very low, and cook until tender, about 10 minutes (do not open the lid during this time). Turn the heat off and let the bulgur sit 10 minutes, then ?uff with a fork and gently stir in the lentils. Taste and add additional salt, pepper, and olive oil if desired.
5. Transfer to a serving dish and top with the caramelized onion. Serve with plain yogurt to spoon on top, if using.